LiveCommander
Live Sound Switching Software
for the Fantom X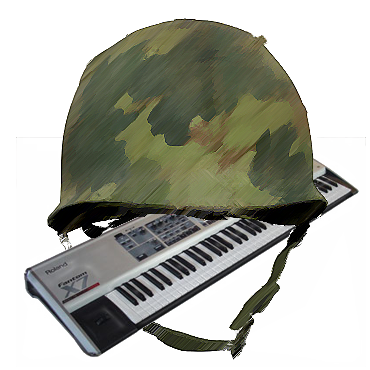 Under construction...

Here's a screenshot of the current version, released April 5, 2010. Scroll down for more info and download link.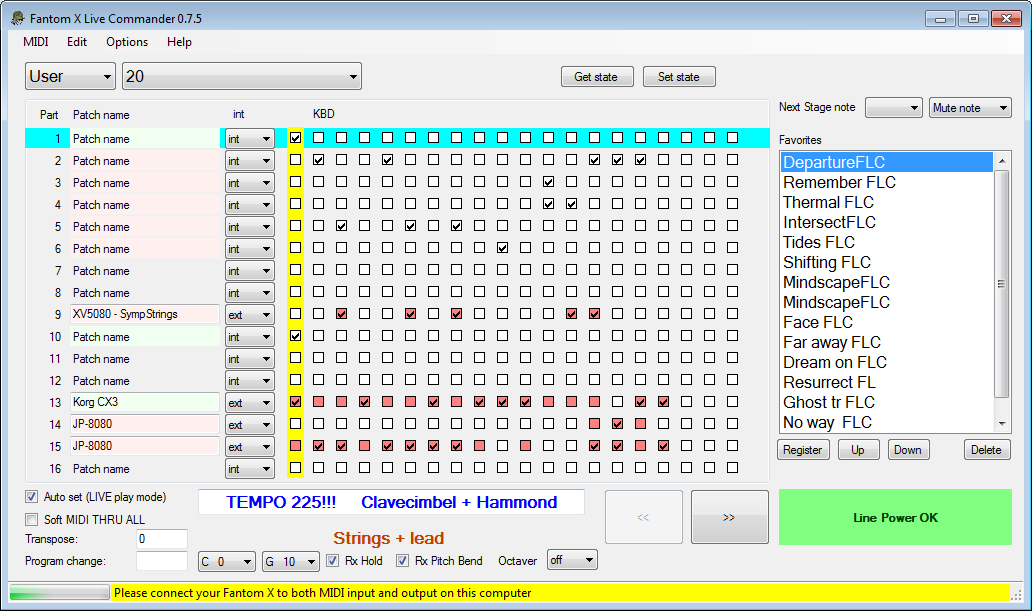 I intend to keep this software free and will probably make it open source but if you use this program feel free to donate.
April 5, 2010: Haven't had much time to work on this but I have uploaded a new version:
Click here to download Fantom X Live Commander 0.7.5

New features in version 0.7.5:
Don't have time right now to describe what's new in more detail, will try to do that later. Please write to me at arjan@livecommander.com if you have any comments or suggestions.
December 24: Here's a little Christmas present: Click here to download Fantom X Live Commander 0.7.0
New features in 0.7.0:
Transpose feature for each external part allowing you to set a different tranpose for each 'Stage' for an external part. FXLC remembers the transpose setting for notes that were switched on in a previous stage so that it can send the correct note off command when you release the key in the next stage .

Program Change feature allowing you to send a program change message to an external part for each Stage change. Very useful for external modules that are not multi-timbral.
Key Range feature for each externa part allowing you to set a different Key Range for each 'Stage' for an external part (must be within the Key Range set inside the Fantom for that MIDI channel/part).
You can either select the lower and upper note using the mouse or you can select Learn (last entry in the last) and play a note on the Fantom keyboard to set the lower or upper note.

Hold-1 (sustain peedal) MIDI filter for external parts to suppress Hold (ON) messages for external parts
Pitch Bend MIDI filter for external parts
Octaver allows doubling, tripling or quadrupling of notes that you play for external parts. Octavers adds notes above the note you play but you can use the Transpose feature to double bass notes instead.
If any of the above features are used the checkbox for that part/stage is colored brown/red to indicate that something special is going on so remember to check the above settings if a part is not acting like you would expect it to.
The current Performance name is now only shown in the dropdown list where you can select it. Once a Performance has been used with FXLC its name will be remembered and will shop up in the dropdown list so that you can easily select a specific Performance from within FXLC. Because of all the SysEx data requesting that FXLC does when you select a new Performance this works better than scrolling/selecting performances on the Fantom itself (which does work but FXLC is just a tad slow to keep up because of the mandatory delay after requesting SysEx data from the Fantom).
All these features were added based on my own needs. If you have any suggestions or comments or if you just want to let me know what you think of it so far send me an email.
December 3: Fantom X Live Commander 0.5 released. Click here to download

Fantom X Live Commander allows you to easily switch sounds on the fly using a computer, for example a small notebook or netbook. I will be adding more notes on how to use it asap. For now here's a few things to keep in mind:
FXLC has been tested on Windows XP SP2, Vista and Windows 7 (64 bit). Actually Windows 7 I have only installed and ran it but have not yet actually used it with a MIDI interface connected.

You must connect your Fantom X to both MIDI input and output of your computer. FXLC will automatically detect what MIDI ports your Fantom is connected to. I have not tested it with the Fantom USB interface but it may work

The current version assumes that Part 1 is on MIDI channel 1, Part 2 on MIDI channel 2 etc. This is only important if you are also going to use FXLC to control external modules that are played through the Fantom X

Controlling external parts currenly only works if you connect them to a second MIDI output on your computer and enable the FXLC soft MIDI through function.
Don't have time for more right now but in the mean time check out this thread on the rolandclan forum for more info and some screenshots.
Have fun!